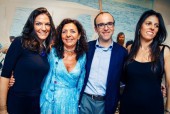 Especialmente para a apresentação, três clientes vieram da Itália: Hugo Pizzinini, proprietário do Relais & Chateaux ROSA ALPINA, Agustina Marmol, proprietária da operadora de luxo DOLOMITE MOUNTAINS e Rachele Belladelli, diretora dos hotéis THE BAUERs em Veneza.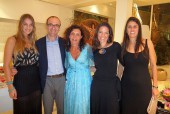 TL Portfolio apresenta clientes italianos para trade de SP
There's skiing the Alps, and then there's skiing the Italian Alps.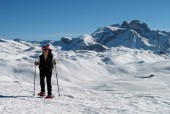 For outdoor enthusiasts who enjoy the unique experience that traditional winter sports have to offer, snowshoeing is the perfect sport. Add in the magnificent natural beauty and perfect snow-covered terrain of the Dolomites, and you've got the perfect setting for an unforgettable snowshoeing adventure.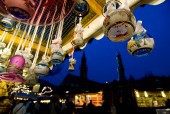 Modern day Bolzano presents a magical convergence of the area's rich, ancient past with its modern, vibrant present. One of the best times to visit is from mid-November through most of December, when the area is transformed into a winter wonderland and is bustling with visitors who come to experience the famous Christmas Market of Bolzano.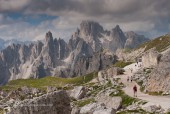 Like EM Forster's heroine, Lucy Honeychurch, who ventured to Italy to escape from her stifled middle class Victorian life and 'find herself' amongst the Duomo's of Florence in 'A Room With a View, I too headed to Italy for a change of scene. But I swopped the cathedrals of Florence for the towering Duomo's of the Dolomites; with its pillars and colossal rock walls, which turn from grey to gold and red at dusk.
Dolomite Mountains is the only local company in the Dolomites specializing and providing unique experiences in adventure travel within one of the most beautiful natural settings on Earth. For over 15 years they have been crafting Dolomite adventures, helping travelers uncover the region's true spirit. Customized guided and self-guided active trips and luxury and gourmet adventures take travelers off the beaten path for authentic experiences that reveal the real Dolomites.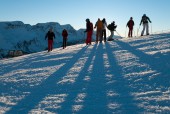 Combine luxury living with all-day skiing, never descending the same piste twice (unless you want to). On the Dolomites Ski Safari Tour you'll ski 12 areas of the Dolomiti Superski region, skiing over seven days from Arabba to Alta Badia (or the other way) past glaciers, gorges, 16th century castels and plenty of superb mountain restaurants.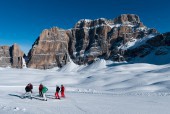 Good food and good skiing are the draw for a five-day ski trip to Italy's Dolomite Mountains.
Dolomite Mountains is offering a Gourmet Ski Safari & Tour, skiing from mountain hut to mountain hut, with gourmet presentations prepared by Michelin-star chefs while traversing over four days, 12 distinct mountain ski areas.
Pag. 1 - 6 Forward >>