Kaiserschmarrn is a delightful South Tyrolean specialty that can be served as an entrée or a dessert, and is perfect after a long hike, climb, bike ride, or ski! This sweet hearty eggy pancake-like dish is cooked over the stove to golden brown perfection, torn apart into bite size pieces, sprinkled with powdered sugar, and served with jam or other sweet sauce. What's more? It has a fascinating history. And it's easy to make!
Yields
1 pancake (1-4 servings)
Ingredients
For the pancake:
10 grams (0.33 ounces) raisins
rum
250 grams (8.82 ounces) flour
0.5 liters (2.1 pints) milk
5 eggs (separated)
125 grams (4.4 ounces) granulated sugar
1 pinch salt
15 grams (0.53 ounces) vanilla extract
8 milliliters (0.27 ounces) lemon juice
For baking and serving:
60 grams (2 ounces) butter (1 to 2 tablespoons)
powdered sugar for dusting (also called icing sugar or confectioners' sugar)
jam, preserves, warm berries, applesauce, and/or Zwetschgenröster (a fruit compote made from plums)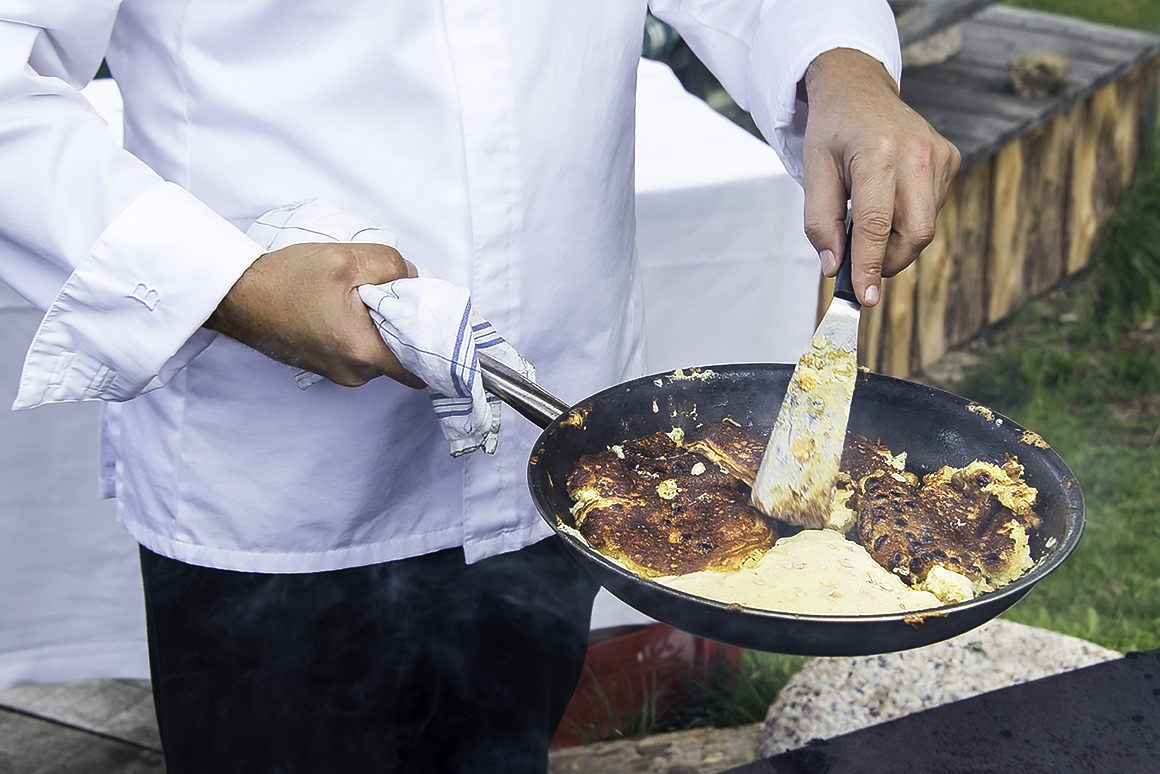 Preparation
Place the raisins in a small saucepan. Pour the rum over them and heat gently until the rum is warm. Remove from heat and let the raisins soak until the rum is absorbed, 20-40 minutes. Set aside.
Separate the eggs. In a medium bowl, beat the egg whites to soft peaks, adding a pinch of salt toward the end.
In a separate bowl, mix the flour and the milk. Add the eggs yolks, sugar, vanilla extract, and lemon juice, to make a slightly liquid batter. Gently fold the beaten egg white carefully into the yolk mass. (Separating the eggs, and mixing in the beaten egg whites later, is what makes the pancake fluffy – because there is no baking powder in this pancake, the egg whites have to do all the work!)
Melt the butter in a large frying pan. Pour in the batter. Drain the excess rum from the raisins, and evenly distribute them on the cooking batter.
Cover, and wait until the underside is golden brown (about 10 minutes over medium heat). Divide the dough in the middle, flip with two forks or a spatula and let the other side become golden brown. Tear into large pieces with two forks while it continues to cook. After it has browned a bit, put powdered sugar into a fine meshed sieve and sprinkle over the pancake. Serve on its own, or with jam, preserves, warm berries, applesauce, and/or Zwetschgenröster as you prefer.
Recipe adapted from Rifugio Bioch / Ütia de Bioch.
Comments
comments