Marica Favé is a Professional Mountain Guide based in the Dolomites' Val di Fassa. She has lived her entire life in these mountains, as a ski racer, member of the forest police, alpinist, competitive ice climber, ski patroller, ski instructor, Italian Federal ski coach, and member of an Alpine rescue team. But she says her greatest – and hardest-won – mountain accomplishment was becoming a UIAGM/IFMGA Guide, a role which she still cherishes today. We recently had the opportunity to catch up with Marica… Read on to learn why she loves the Dolomites plus her favorite places, trails, and pastas!
This is the first in an occasional series highlighting our incredible Dolomite Mountains Guides. This interview has been edited for length and clarity.
Q&A
Dolomite Mountains [DM]:   What is your favorite thing about living in the mountains?
Marika Favé [MF]:      That you reach isolation and/or incredible places within ten minutes.
DM:     What are your favorite things about the Dolomites?
MF:      These are the most perfect mountains without any doubt. Jagged towers, vertical walls, contrast of colors, green of the grass (due to the really fertile volcanic soil). There are no other places in the world with a similar landscape.
DM:     Why did you become a mountain guide??
MF:      I love to show people the beauty of the mountains.
DM:     What is your favorite thing about guiding?
MF:      It is the relationship you create with the clients including trust and friendship.
DM:     Does being a woman affect the way you guide?
MF:      Women and men are different, no doubt. We have different qualities. The psychological approach between female and male guides is probably different, but the way of guiding does not change. The methods, the safety, do not change. The quality and the examination required to become mountain guide are identical. So no doubt, to become mountain guide you have to be a badass woman…
DM:     Do you have any favorite clients?
MF:      Kim and Marc. I guided them for the first time on Via Ferrata Tridentina seven years ago. They loved it and have come back every year since! We have climbed a lot in the Dolomites, but I have also guided them other places in Italy: in the Val di Mello Natural Reserve in the nearby Lombardy region; on the Island of Sardinia; and on the volcanoes of the Aeolian Islands north of Sicily. Since the first year, they have felt like friends. We cry every time when they have to go back home!
DM:     What are your favorite places in the Dolomites?
MF:      My favorite trail: The next one… I like to see new places!
             My favorite climb: Primo Spigolo Tofana di Rozes – the Pompanin-Alverà route. It's a really fun 15-pitch route, surrounded by beautiful red vertical walls.
             My favorite colouir: Holzer Colouir on SassPordoi – the ultimate steep and narrow ski run in the Dolomites.
             My favorite region of the Dolomites: Cortina d'Ampezzo. I love Cortina! I like to go downtown and visit the Cooperativa di Cortina. It is a big store that has every kind of stuff: food, books, post cards, souvenirs, calendars, camping gear, shoes, underwear, clothing, headlamps, climbing equipment…
DM:     Are there places in the Dolomites that you still want to explore?
MF:      Pale di San Martino, south east of the Val di Fassa, where I live. It's actually one of the largest groups in the Dolomites, and the furthest south, surrounded by deep so there is a lot of really interesting hiking and climbing. 
DM:     What are your favorite foods in the Dolomites?
MF:      Casunciei all'Ampezzana is no doubt my favorite dish. It is ravioli shaped like a half-moon, filled with red beets and ricotta cheese, served in a butter sauce and sprinkled with poppyseeds and parmesan cheese on top.
DM:     What are your favorite things to do when you are not hiking / climbing / skiing?
MF:      My favorite non guiding activity is spending time with Anja, my daughter. I am also a ski instructor and always think that teaching (anything) is an art. And teaching your daughter is just incredible satisfaction.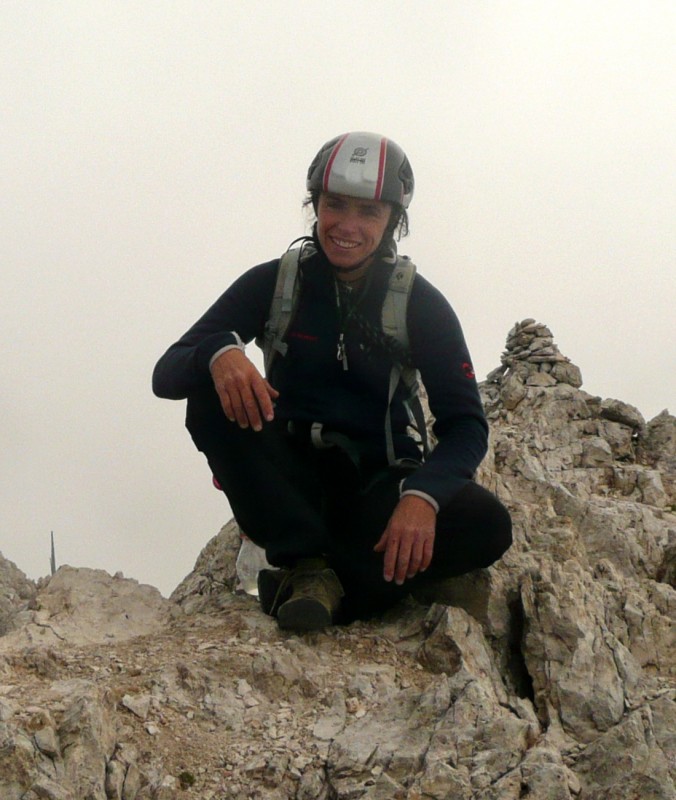 DM:     What makes Val di Fassa, where you live, so special?
MF:      The people – we are really friendly!
             Freeriding [skiing off-piste] here is the best: on Marmolada, the highest peak of Dolomites, and the only wide glacier of the region; and on the Sella Massif, with its valleys, saddles, forks, and couloirs.
             Plus, Fassa is a sunny valley, with a flat bottom and open sides. It is a glacier valley, that carved into a "U" shape.
DM:     How does Val di Fassa capture the magnificence of the Dolomites?
MF:      We have some incredible and unique mountains: Catinaccio, Sassolungo, Sella, Latemar…
DM:     What things in Val di Fassa are "typical," traditional Dolomites?
MF:      The architecture is very Tyrolean in style. The houses always have a wooden balcony and a wooden roof, and the balconies are filled with flowers in summer. 
DM:     What makes Val di Fassa different than the rest of the Dolomites?
MF:      As I mentioned before, the Fassa valley has a the flatter bottom due to its glacier origin. It is this "U" shape because it was carved by a glacier, which is different than the rest of the Dolomites valleys
DM:     Is there anything in Val di Fassa that is similar to the rest of the Dolomites, but has it's own unique Val di Fassa signture?
MF:      Like in Cortina, the Val di Fassa has its own special dish, Casoncìe da Fighes, or fig ravioli. This is very similar to Casunciei all'Ampezzana, but filled with figs instead of beets.
dDM:     Anything else you'd like to share?
MF:      Local people from Val di Fassa, like me, are really attached to our Ladin roots. I consider myself Ladin before Italian. I feel Ladin is my first language, even though I can speak it just in my valley. I never speak Italian with my daughter – we always speak Ladin.
To read Marika's complete biography, click here.
Check out the Wall Street Journal to read about Marika guiding a ski safari!
Comments
comments