Extraordinary Guides with International Certifications
While we all know choosing the right trip and destination are key to having a great holiday, it is also essential to have the right guide! Yes, location and itinerary are important, but the guide can be the highlight of your trip. And, they can make the difference between a good trip and an outstanding trip – one that you'll want to talk about for years to come.
At Dolomite Mountains, our guides are passionate, experienced mountain enthusiasts who work year-round in the outdoor industry and are dedicated to providing you with an exceptional experience. You will find your guide incredibly knowledgeable about the local terrain, culture, food and customs, and passionate about sharing it with you – you're in their back yard after all! They are all conversational in at least one, if not more, of the principal languages in the region – Italian, German, and Ladin – in addition to English.
All of our guides have outdoor leadership certifications, and continue to hone their skills on an ongoing basis through advanced guiding and leadership courses. They are either UIAGM/IFMGA Professional Mountain Guides – the highest climbing, mountaineering, and ski-mountaineering qualification in the world, who guide hiking, via ferrata, climbing, and skiing  trips; UIMLA Professional Mountain Leaders – who guide hiking, trekking, trail running, and snowshoeing trips;or Certified Bike Guides – who guide road biking, mountain biking, and e-biking trips. The UIAGM/IFMGA Mountain Guide and the UIMLA Mountain Leader are the only internationally recognized certifications in the mountains worldwide.
We also occasionally bring in "guest" experts – such as photography and yoga instructors who are also professionals in their own right – but you will also always be accompanied by one of our Dolomite Mountains guides (unless you opt for a self-guided trip, of course!).
Most importantly, Dolomite Mountains guides are fun to be with, and dedicated to making sure you have an outstanding experience and enjoy your trip in the Dolomites!
UIAGM/IFMGA MOUNTAIN GUIDES
UIAGM (Union Internationale des Associations de Guide de Montagne)
IFMGA (International Federation of Mountain Guides Association)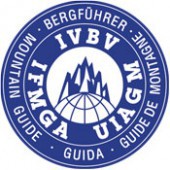 UIAGM/IFMGAcertification is the highest mountain guide qualification in the world. In order to become a certified IFMGA mountain guide a high level of training – the highest in existence – is required in four different disciplines: rock climbing, ice climbing, mountaineering, and ski mountaineering.
Training to become a Mountain Guide involves two phases – first to qualify as an Aspiring Guide, which takes place across 1-5 years and requires at least 50 days of Group Training. This represents about 90% of the work towards becoming a Mountain Guide. From here, those accepted as Apiring Guides have 2 years to complete their training. This includes an apprenticeship of sorts: 14 days of Individual Training, followed by the Mountain Guide Course – a minimum of 30 days of training and the passage of a series of tests, to earn a UIAGM/IFMGA Mountain Guide certification.
Ensuring client safety is a primary objective of the UIAGM/IFMGA. Proper guide training guarantees an international standard of mountain guides. Guides develop and are certified with a skill level that prepares them to work on any mountain range, whether they are already familiar with the mountain or not.
The IFMGA is a worldwide association – founded in 1965 by guides from Austria, France, Switzerland, and Italy – and currently includes mountain guide associations from more than 20 countries in Europe, Asia, the Americas, and Oceania, representing a total of almost 6,000 guides. We are thrilled to have more than 20 of them on our team!
UIMLA Mountain Leaders
UIMLA (Union of International Mountain Leader Associations)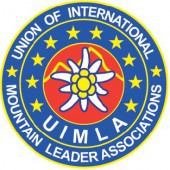 An International Mountain Leader (IML)is a person that has been trained and assessed against the challenging requirements of UIMLA. The IML qualification lets the leader guide clients in different mountains all over the world, leading them on high altitude treks, trail runs, and snowshoeing excursions, where the skills and equipment of alpinism are not required (glaciers, permanent snow, or where the planned use of a rope is necessary). The UIMLA's training for certified mountain leaders meets IFMGA standards.
Founded in 2004, the UIMLA is an international governing body that represents International Mountain Leaders across the world. One of the most important targets for UIMLA is to represent the profession at the international level, setting equal standards of qualifications for all International Mountain Leaders (IMLs), by ensuring that the "common platform standard" for all IML leaders is adhered to. UIMLA promotes the profession and supports the cooperation between IMLs from different countries.
Why Hire a Professional Mountain Guide?
For some people, the thought of traveling somewhere like the Dolomites and taking an unforgettable climb up the mountains is an exhilarating dream. But most of these people are not highly skilled or experienced at taking on such a feat. It can be challenging and extremely dangerous. That is why there are professionals who do it for a living. Mountain Guides are experts at all things mountainous and as such, are able to help everyday people do extraordinary things. But what exactly is a Mountain Guide, and what do they do?
A mountain guide is a professional climber that has achieved certification by the International Federation of Mountain Guides Associations (IFMGA), which is the highest qualification in the world for mountaineers. Mountain guides participate in leading people in a variety of different activities such as hiking, climbing and skiing. Obtaining certification as a guide is not easy. It requires rigorous training for a period of up to five years followed by an apprenticeship with an experienced guide for another two years. Once certified, Mountain Guides must also participate in regular professional development training in order to stay abreast of any new techniques or changes to the standards to which they adhere.
Mountain Guides have a rich history in the Dolomites, with records dating back as far as the 15th century showing that local mountaineers were hired by the Venetian Republic to accompany mapmakers through the region as they traced the territories. In 1865, Austria officially created the discipline of Alpine guide, based on the experience of the first explorers to the Dolomites being assisted by the local mountain goat herders. These original inhabitants knew how to traverse the steep and dangerous mountain routes and are considered the forefathers of the modern Mountain Guide.
The Dolomites, and the Cortina d'Ampezzo area in particular, is one of the most renowned for its mountain guides, which were famous for having tackled some of the most challenging and difficult ascents of the first half of the 20th century.
Professional Mountain Guides have tremendous responsibility to the people they lead, to educate and ensure their safety while in the mountains. Among the many disciplines that an experienced guide must master are:
Hiking
Rock climbing
Via ferrata climbing
Canyoning
Mountaineering
Off-piste skiing
Ski mountaineering
Ice climbing
Professional Mountain Guides are true mountain experts who share an unparalleled passion for the environment and the rocky terrain on which they make their living. They open the doors to worlds that would otherwise be left unexplored by most people, providing a unique opportunity to experience the amazing and glorious natural beauty that the mountains have to offer.