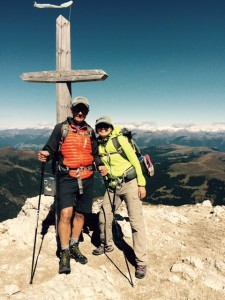 Patty Baird owns the Cedar House Sport Hotel in Truckee, CA.  She chose to go on a hiking adventure with friends in the Dolomites for a vacation of her own.
Why did you choose this trip over other options?
We chose Alta Via 2 over Alta Via 1 due to our understanding that it sits more isolated than Via 1 and is more rugged, i.e. more demanding. We wanted a challenge, but we had skied the Dolomites many times and the Marmalada had a special place in my heart.  I wanted to hike next to the "Queen of the Dolomites" – so Alta Via 2 was the right choice for us.
What was your favorite part about your trip to the Dolomite Mountains?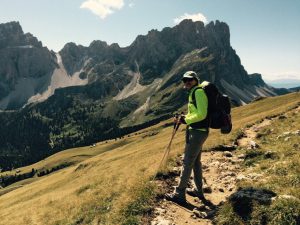 That is a tough one to answer– there are so many "favorites" since each day brought forth unique and different experiences and challenges.  If I had to choose one – I  guess the via ferrata climb on Day 3 would be a top ranking highlight.  We did Ferrata Tridentina.  This was my very first via ferrata experience, and it will not be my last. It was a personal challenge – I had some trepidation as we first approached the wall – Torre Exner – but our guides, Marika Fave and Marco Bergamo were fantastic, skillful, and very calming – dissolving any unease I or the group initially had. The climb was both physically and mentally demanding, but surprisingly the exposure was more exciting than scary. I really liked this!  The sensation I and the group had after walking across the high rising suspension bridge, which was near the end of the climb,  is difficult to express in words, but basically we now found ourselves at the end of a test of sorts,  and that sense of accomplishment and jovial bliss (lots of WOOP WOOP!) made this an unforgettable day.
What was your favorite local dish during your stay?
Another hard question – the trail stirred up quite the hunger, we enjoyed the polenta, sausage, speck and the local cheeses – all washed down with copious amounts of house wine – it really doesn't get better than that!
What made your trip special?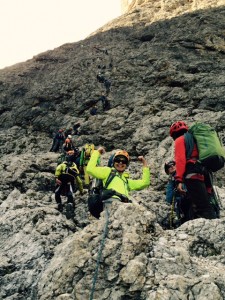 It was dinner time in the rifugios – sitting with hikers from around the world, that spirit of community is so wonderful. Exchanging stories of your day's adventure is something that I miss dearly when I return home, once again finding myself sitting somewhat isolated at my desk, communicating via a screen instead of sitting around a table, breaking bread with new friends. It is a reminder that humans are social creatures, we really need each other, yet modern life is changing how we communicate – while I embrace technology – technical connections are not the same as physical ones, and I am reminded of that as I laugh and share narratives with my fellow hikers under candlelight and the glow of a full moon.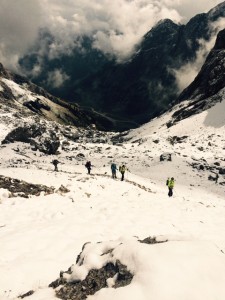 What was your favorite town and why?  
Again, no favorites – all were wonderful and had its own specialness, however, part of the reason why we chose Alta Via 2 was the fact that it was a higher route, so not as much "town access" once you are on the trail.  I did have a favorite refugio –  Contrin.  We arrived after hiking under the "Queen" (Marmalada) in a snow storm – so we had to find the trail under the snow going up the Passo De Ombretta.  It was quite the adventure, but Rifugio Contrin was a welcoming jewel at the basin of that snowy pass we just hiked over.
To check out Patty's beautiful resort in California visit www.cedarhousesporthotel.com.
Comments
comments