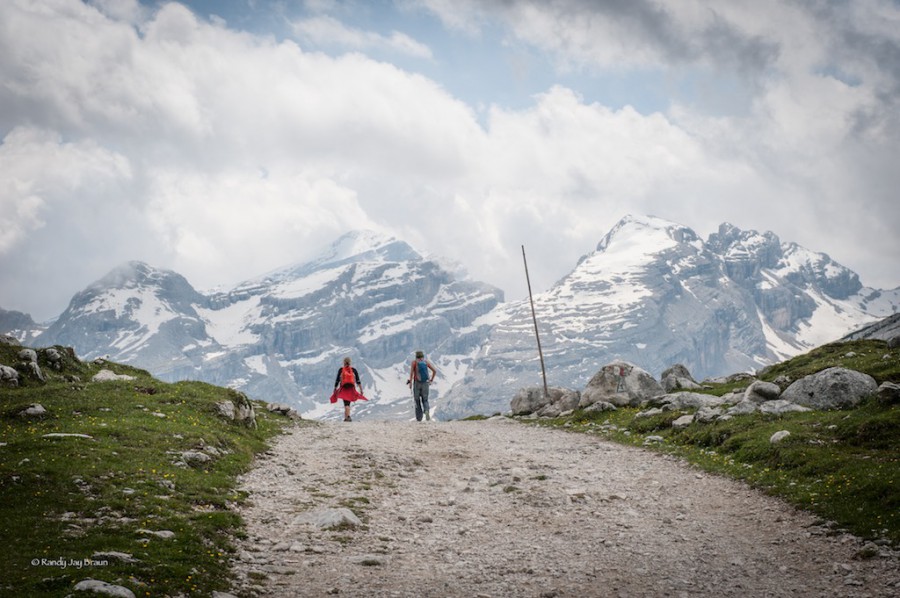 CHICAGO TRIBUNE – By Jennifer Wilson
When the first snow of the year gently fell on the Cortina D'Ampezzo, one of the valleys making up the Dolomites, we thought these jagged Italian Alps named for the hard stone that composes them were even more beautiful than when we'd hiked through its green pastures and slopes dotted with hikers huts and shepherd barns.
But it wasn't long before our idyllic drive veered into white-knuckle territory: Behind the wheel of our rented Peugeot, my husband Jim and I didn't have a whole lot of experience navigating a slippery mountain pass. We'd come here to hike in the off-season, just before the snowshoe, cross-country and Nordic ski crowds pour in from around the world. But, as we discovered, snow is never out of the question in fall.
"I'm pulling over," he announced, as the GPS warned of black ice. Fortunately for us, one of those hikers huts (called refugios) appeared within a minute on the roadside. Lined up on the bar were big pickle jars of local brandies, different herbs floating in each.
Most people don't even bother renting a car here. Why bother, when buses and guide services shuttle regularly from the Venice airport, and each of the four Dolomite valleys is interconnected by ski lifts. The famous Sella Ronda loop alone passes through all four Dolomite valleys—beloved by bikers and skiers and interconnected by lifts.
On our little snowed-in interlude, Jim and I daydreamed of the past few days we'd spent in the Dolomites. The kids and I hiked to the oldest refugio, in the Cortina d'Ampezzo with guide, Karin Pizzinini. She'd pointed out the Marmolada: the highest peak at 11,000 feet.
"You can ski its glacier," she told Sam as they hiked, hand in hand. Zadie, immediately tuckered out as a preschooler will be when hiking about 300 meters into the clouds, rode on my back most of the way, earning me one of Italy's creamy perfect cappuccinos when we arrived on the top: Refugio Nuvolau.
Jim hadn't even climbed a steep hill before he ascended the via farrata of the Averau mountain. A combination between a hike and rock climb, via farrata was invented here in World War I by soldiers navigating this rugged terrain. The rock-mounted ladder-and-cable system was too much for the kids, but Jim was so pumped with adrenaline by the experience that he ran the entire way back down Averau, forgetting to remove his helmet as he sought the kids and I out at the bottom to tell us all about it.
"That was one of the most incredible things I've ever done in my life," he said about hitting the peak, where a spare cross was planted, inspiring hikers even further to take a seat, and enjoy the view.
We thought about the few chunked-out mountains we'd seen on our respective climbs: remnants from World War I when the Austrians and Italians in these valleys fought each other. The remaining Italian battle trenches of the Cinque Torri open-air museum, , taught our typically gun-intrigued Sam that war wasn't all that cool.
"The Austrian and Italian soldiers would sometimes come down from the mountains to meet at night and exchange family news," says Karin.
The shared Ladin culture of the Dolomite people has unified them for 2000 years—it was only last century you could even get into and out of these valleys without the help of a horse-drawn sleigh. All tourism signs read in Italian, German and Ladino, from the 200-some refugios to 5000 miles of marked skiing and hiking trails, most with some sort of rest stop offering rustic and decadent food and drink. Hiking the Larch Trail and Trail #15, passing the hilltop church of Santa Croce, we ate a traditional Ladino meal at Ranch Hutte da Andre, a picturesque family farm that once operated those sleighs out of the valley now serving food such as goat cheese from their personal herd, stuffed tortilla-like turtres, filled with potatoes, spinach or sauerkraut and ricotta, and tasting very much like state fair food.
Pizza and wine are affordable and abundant in this vacation zone known for chic shops (buy your Chanel ski sweater here), refugios delivered the best values and views throughout the trip. A heart-stopping 1800-foot ascent in a funicular was the prelude to lunch at Refugio Scoiattoli for wine and spinach- and beet-stuffed ravioli. The slow snaking trail to Refugio Lavarella in the Fanes Valley took 4.5 hours (I left Jim and the kids at the hotel), passing herds of sleek horses, cattle with cowbells, and enormous boulders that made hikers look like extras in Land of the Lost. En route, I stopped for lunch at Malga Gran Fanes refugio, revved-up metabolism devouring thick chicken-barley soup, spek and potatoes topped with fried eggs, and the Ladino dessert kaiser schmarren (pancakes and lingonberries) for 11EU, including beer.
After a few nights in the picturesque Hotel Park Faloria in Cortina (doubles €120-€320; parkhotelfaloria.it), we'd moved to the lesser-known but centrally located Alta Badia valley, checking in to the splurgy Rosa Alpina Hotel in San Cassiano (doubles €300-€1200; www.rosalpina.it).
We'd forgotten our passports in Cortina, which was the reason for our snowy drive. We fantasized about their pool surrounded by lounge beds, and the saunas—yes, that's plural, both dry Finnish sauna and a wet Turkish one. Like most higher-end hotels in the Dolomites, Rosa Alpina has a spa (some lodgings, such as the Hotel Posta Zirm in Corvara, www.hotelpostazirm.it, book spa treatments for non-guests).
We knew when we got back to the hotel, whenever that was, owner Hugo Pizzinini would be roving the lush leather-and-wood family property, where antique family portraits decorate the walls. We loved the one of Hugo's great grandfather kneeling in a great Alpine meadow at the base of one of the many shrines along the paths, mountains reaching to heaven in the distance.
It makes a visitor feel a little like they know the family, though Hugo says—and his perpetual presence confirms—that: "For me, the goal is to know all of the guests."
The Relais & Chateaux lodging (and choice of Italy's adopted son, George Clooney) is home to Chef Norbert Niederkopfler, who has two Michelin stars, and whose cooking demonstration taught Jim to make proper tortellini. (Next door, Hugo's cousin has his own Michelin star at La Ceriola.) We still fantasize about Rosa Alpina's breakfasts of local yogurt, prosciutto, wheels of cheese, omelette bar and fresh-squeezed juices. Our gracious server brought the kids tiny pots of liquid chocolate for their steamed milk.
Jim looked longingly out the refugio window, wondering like I was when we could finish the few minutes of our drive, and be back in San Cassiano. Just as we called our guide, we heard a familiar rumble that any Midwesterner could identify as the local snow plow.
"Let's go!" Jim gathered our things, and we tucked the kids into the back seat. Following the snowplow closely, we got arrived back at the Rosa Alpina on wet but clear roads. The Dolomites understand snow and how to navigate it.
That night, in front of a crackling fire in the Rosa Alpina bar, Keith Dragon, a world traveler visiting from Boulder, encapsulated the Dolomites over fizzy prosecco.
"It's tremendously easy to be active here," he says. "And it's tremendously easy to just relax. It's so comfortable, it feels a little like coming home."
Jim and I look at each other, he massaging the knuckles that gripped a steering wheel just a few hours earlier, and ordered another round.
Trip Tips
• Dolomite Mountains (www.dolomitemountains.com) assembles personalized itineraries in your targeted budget range. Expect to pay between 2,500-4,800 EU/week, plus airfare. Options include guided, half-guided or unguided, and a wide range of lodgings. Save by staying in beds and breakfast or refugios. American-based outfitters like Mountain Sobek Travel also lead Dolomite trips (subcontracting with Dolomite Mountains).
• Astute trip-planners can cut costs by going solo. Lodgings and tourism offices offer packages and advice, but don't expect the speedy service of a private outfitter. Venice airport-Cortina buses run year-round. Public transportation is good.
• The area shuts down April to mid-June, and October to November.
Byline
Jennifer Wilson and her family are spending the year traveling Italy and Croatia, rediscovering the land of where her maternal great-grandparents immigrated from 100 years ago. Follow their journey at www.touchingupmyroots.com. Her book of the same title will be published by St. Martin's Press in Spring 2011.