Elisabetta Caserini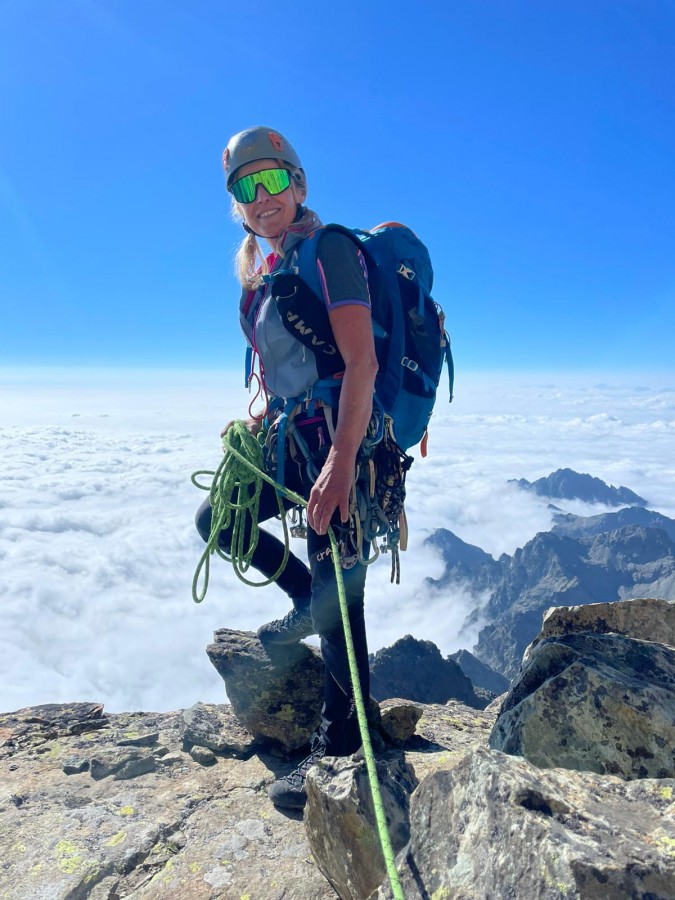 Elisabetta is an avid hiker and outdoor enthusiast. She's always loved exploring the great outdoors and challenging herself to reach new heights. Elisabetta was born and grew up in Savona, on the Ligurian coast. She currently lives between Liguria and the Dolomites, spending most of her time in the Alps.
Thanks to her family, she has loved the mountains since she was a child. Her passion for mountaineering was born when a friend (who knew her love for the mountains) proposed she attends a mountaineering course, and just like that, her greatest joy was born.
Obtaining the title of a mountain guide is a dream of many mountaineers. For her, a girl born in a city by the sea, it was a search for personal satisfaction and a need to prove that she could have excellent results with strength, passion, and determination. Finally, her dream became a reality. 
Elisabetta earned her UIAGM/IFMGA guiding certification in 2010, began guiding clients, then passed her exams and qualified in 2013.
Guiding many activities such as via ferrata, rock climbing, ski touring, off-piste skiing, and ice climbing, her favorite is instructing people on multi-pitch climbing in the Dolomites, like the Messner route to Seconda Torre di Sella. Topping off the adventure with a traditional dish of Canerderli (dumplings) and a cold beer!
Elisabetta enjoys passing on her respect for the Dolomites, inspiring others with her knowledge of the beautiful landscape, the numerous possibilities for any skill level, the excellent services, and the professionalism of the guides that value this incredible region.
Her extensive international rock climbing and skiing resume includes Algeria, Greece, Corse, Japan, Morocco, the USA, Madagascar, France, and Spain. The Maritime Alps is her number one spot to visit outside the Dolomites. 
When she's not hiking, you can find her planning her next adventure, researching new trails, or sharing her experiences with fellow hikers. She's always looking for new challenges and loves pushing herself to her limits.
Elisabetta believes everyone deserves to experience the joy of hiking, and she's here to make that happen. So grab your hiking boots, and let's hit the trails!
Live every moment. Travel the world, and open your mind. Life will be wonderful.
Role
Hiking, Via Ferrata, Climbing, and Skiing Guide
Languages spoken
Italian, English