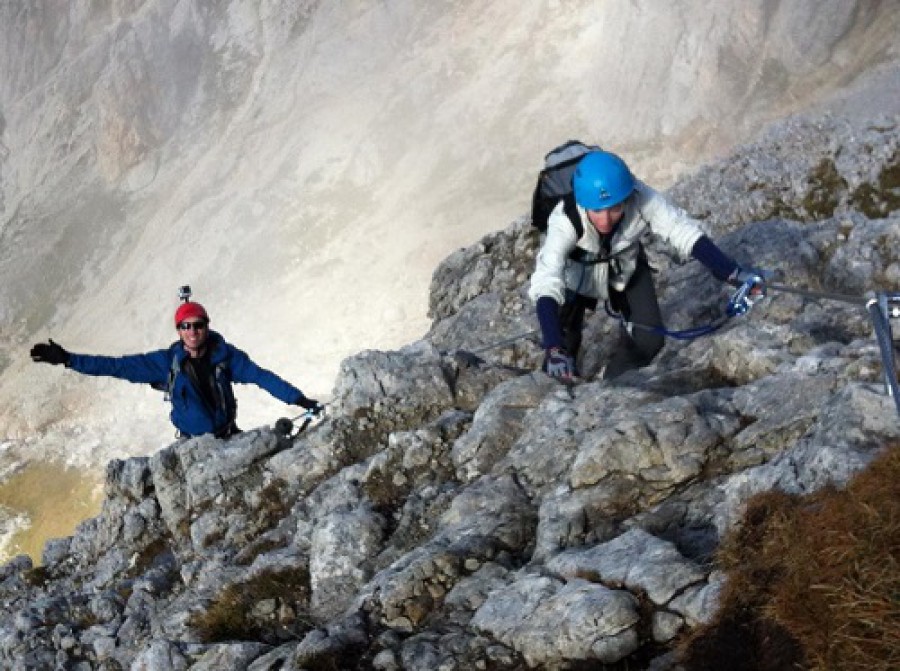 Via Ferrata Giovanni Lipella, Tofana di Rozes 3225m
Mountaineers delight in the challenge that this impressive ferrata provides, while history lovers enjoy the variety of historical landmarks that pay homage to the First World War battles that were once fought here so many years ago.
Belying the difficulty that lies ahead, actually reaching the ferrata is relatively simple. Access the ferrata by way of path 404, from the Rifugio Dibona, which will bring you underneath Tofana di Rozes to the steps into the Castelletto tunnel where the ferrata begins.
While the terrain is certainly demanding, the thing that makes this ferrata so formidable is its length. Begin with a sharp ascent through a historical 500m wartime tunnel, which was dug out by the Alpini soldiers (height gain 120m, 500m in length). Don't forget your headlamp or torch – you'll definitely need it to light your way. When you reach the end of the tunnel, you'll be met with a winding row of steep ledges and steps along the west/northwest face of the Tofana di Rozes just begging to be conquered.
Your journey is far from over! You'll soon reach a fork in the road, at which point you'll need to stay to the right toward another set of steps. One final demanding ramp will lead you to the end of the ferrata at a height of 3027m. The track from there will bring you to the impressive 3225m summit, at the very heart of the Dolomites, where the surrounding scenery will surely ingrain itself into your memory forever.
Your descent will start with the same path of ascent, and down a natural path to the northeast. Helpful blue markers will guide your way as you traverse back down this incredible journey to the starting point. Lipella is a fantastic and challenging via ferrata that should only be tackled by those skilled enough to handle the steep and difficult terrain – it's not for the faint of heart! But rest assured, once you get a glimpse of the breathtaking views it affords, you'll know why it's worth every hard-earned step.