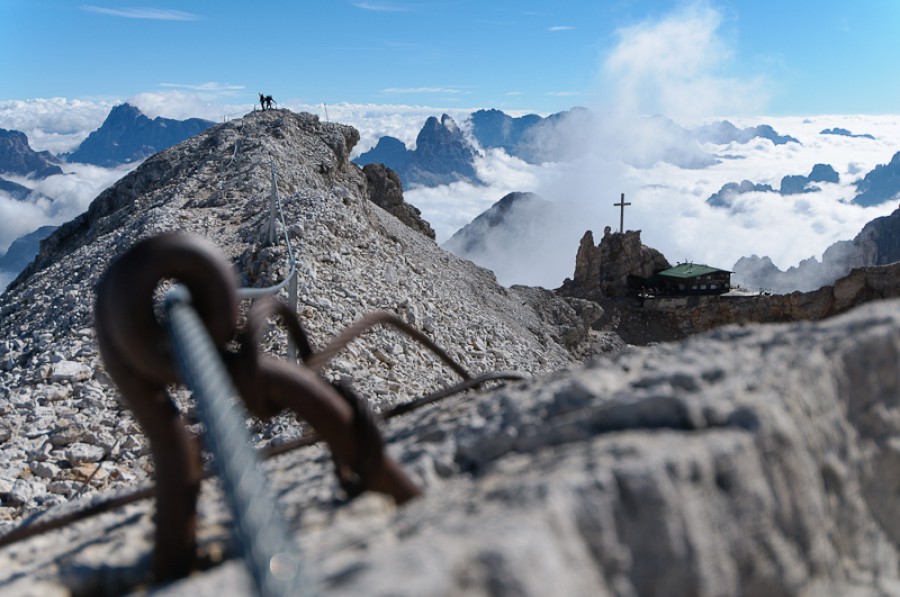 Ferrata Ra Gusela Dolomites Nuvolau, 2574m
Another refreshingly short but exhilarating ferrata, Nuvolau-Ragusela is perfect for a daytime adventure since it can be conquered in just a few hours. It's also relatively easy and as such, is often used for training purposes so it's great for beginners to be able to try their hand at the unique experience of climbing via ferrata in the Dolomites.
It's a lovely and relatively new path which descends along the southeast face of the mountain and can easily be accessed by taking path 439. You can simply take a chairlift from Rifugio Fedare to Rifugio Averau and take path 439 to Rifugio Nuvolau or, you can follow SS 48 from Cortina d'Ampezzo to Passo Falzarego and the Bàin de Dones restaurant where you can access the chairlift and follow the same directions. Either way, you should find yourself at the start of the ferrata in a little more than an hour.
This ferrata actually starts with a descent down an iron ladder toward the left side of a fully equipped ledge. You will then continue downward until you reach the bottom of the southeast rock face and the impressive vertical Ra Gusela wall. Finish your short journey with a pleasant hike along path 443, which, if followed to the left leads you back to Rifugio Scoiattoli or to Passo Giau, path 452 and ultimately Rifugio Averau if followed to the right. Descend one of three ways: along path 439 to Rifugio Scaiattoli, by chairlift or by path 441 to where your journey began.
The Nuvolau-Ragusela via ferrata is a lovely brief adventure that won't take up too much time but still affords excitement and amazing views of the surrounding majestic peaks.