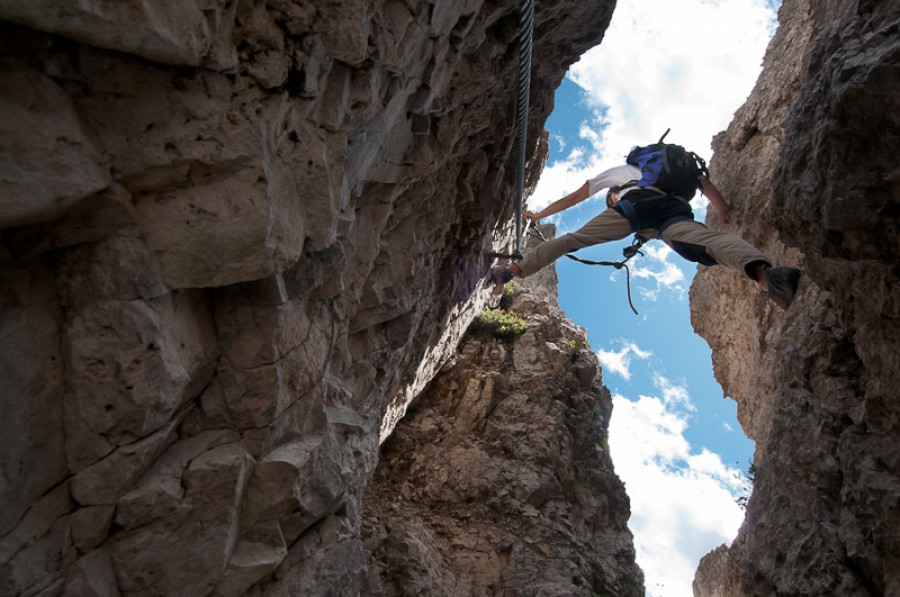 Via Ferrata Averau, 2649m
Perfect for beginner climbers or those just looking for a short, pleasant trip, Averau provides everything you need to enjoy a lovely afternoon in the Dolomites.
Located amidst the training ground of countless rock climbers who've come before, the Averau via ferrata is a wonderful easy to moderate climb. The route begins with either a chairlift from Rifugio Fedare up to Rifugio Averau or from Cortina d'Ampezzo, by taking the SS 48 towards Passo Falzarego, hopping on a chairlift to Rifugio Scoiattoli, and traveling path 439 (30 min – 190m). Alternately, take path no. 441-419 (1 hour 15 min – 300m) from Passo Falzarego or follow path 452 from Passo Giau. Once you reach Rifugio Averau, follow the marked path northwards to the start of the ferrata, which sits just below Averau's northeast gully.
This ferrata climb begins with a short ascent, past a chimney and up the 60m lined path which brings you to the crest, where the views are simply magnificent. From atop the peak, gaze around at the breathtaking panoramas from Monte Pelmo to Antelao, Civetta, Sorapis and even Tofana di Rozes. Once you've taken in the incredible sights, you can return the same way you can, descending down until you reach the starting point of Rifugio Averau.
The total trip takes about a half day to complete and is perfect for climbers of any skill level. If you're looking for a new and unique way to experience the magnificence of the Dolomites, but don't have either the time or the expertise to conquer a more difficult one, this via ferrata is the ideal adventure for you.