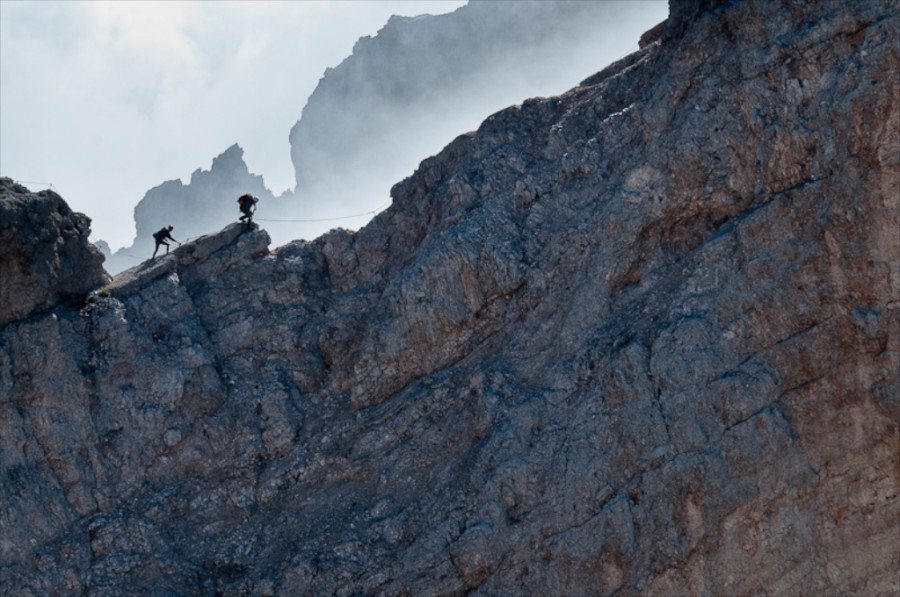 Sentiero attrezzato De Luca - Innerkofler
While all the via ferrata offer an incredible way to experience the Dolomites, this one may just have a slight advantage, particularly since the path itself follows an old wartime route including tunnels once used during the First World War. It's an easy to moderate climb that offers fabulous scenery and interesting historical finds, and it can be conquered in less than a day.
Access to the ferrata can be achieved by taking the road from Cortina to Misurina via Passo Tre Croci. From that point, the Tre Cime toll road will bring you to Rifugio Auronzo (2298m) and a path leading beneath the Tre Cime to Rifugio Lavaredo and Rifugio Locatelli, to the start of the ferrata.
This ferrata begins in a dimly lit tunnel (don't forget your headlamp), and continues to ascend sections that are a bit challenging but fully equipped with ladders for assistance. The exceptional views begin once you exit the tunnel at 2520m, out onto the magnificent east face of the mountain where a vertical wall leads to Forcella di Camosci (2650m), and continues on to the Ferrata delle Forcelle. While you'll need your concentration to stay on track, do pause a few moments to look around – it's worth the momentary break.
Next, you'll head south and descend a short gully onto another equipped wall which will bring you up toward the summit. This part can be slightly challenging and requires focus and effort to complete but you'll be rewarded for your efforts when you reach easy terrain that leads to the summit, which is perfectly situated opposite the north faces of the Tre Cime di Lavaredo. While the Innerkofler-Misurina ferrata may not be as straightforward as some of the others, it's still quite manageable and the magnificent scenery makes it well worthwhile.
Even the descent, which can be done via the ascent route or by traversing down along the Sentiero delle Forcelle on the east crest of the mountain, affords picturesque opportunities that simply can't be seen the same way from the ground below.
Conquer this via ferrata and you will enjoy exceptional views, particularly of Monte Paterno, from which the north faces of the well-known Tre Cime di Lavaredo / Drei Zinnen, a magnificent trio of high towers that are considered a symbol of alpinism the world over can be seen perfectly. The path along the northwest crest and east face to Forcella dei Camosci, on the way to the summit, also offers incredibly panoramas. It's a pleasant, direct route that is perfect for nature lovers, outdoor enthusiasts and history buffs and because it won't take up your whole day you can plan it in a pinch.