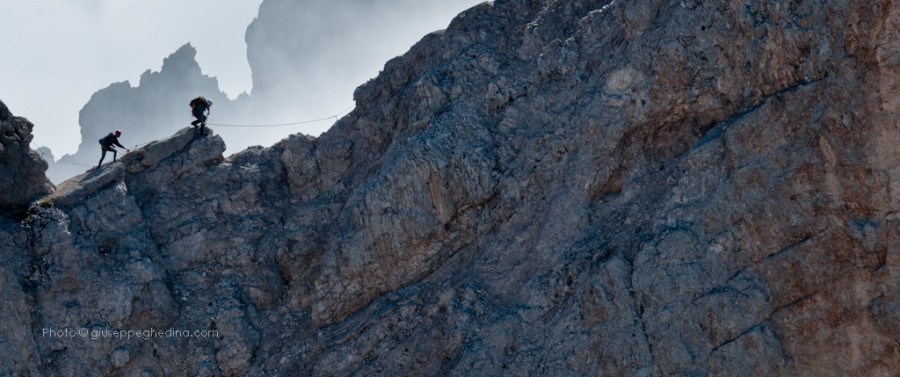 Via Ferrata degli Alpini, Col dei Bos, 2559m
Because it is still used for training by the Italian alpine military units, and because it is quite new (it was created by Italian Alpine Troops in 2009), the Col dei Bos via ferrata is not marked on older maps or guide books. This means that climbing it is akin to enjoying a little hidden gem among the massive surrounding mountain peaks. You'll feel like you're in on the Dolomites' best kept secret!
Cortina d'Ampezzo provides easy access to this ferrata, with a drive along SS 48 toward Passo Falzarego, ending at the Da Strobel restaurant. From there take the path, which contains convenient and easy to follow signs. One of the best parts of this trek is the fascinating historical ruins of a First World War hospital you will pass on your way to the start of the ferrata. Continue east, through peaceful scenic meadows toward the Col dai Bos pyramid. From there you can access the route leading to where the ferrata begins.
Comprised of an impressive network of steel cables, protective cones and special bolt reinforcements, this via ferrata begins above Col Gallina near the Falzarego pass and ascends along the south face of the Col dai Bos. The first part is the most challenging section, but it gradually gets easier at about 80m, where you reach a wide ledge, a short wall and several manageable slopes. The pleasant climb continues on to another demanding wall and then a nice, easy grassy section.
A peaceful grassy slope will lead you to the second half of the ferrata and the 2400m Col dai Bos pyramid summit, which does contain some technical sections but is moderately easier than the first half. You'll find all your hard work was worth it once you see the unforgettable views, particularly those of the Cortina basin.
The final 100m section of the ferrata contains a few vertical segments, however there are plenty of available holds to assist, making it quite a safe and enjoyable journey. More spectacular views await you at the 2559m summit and cross, where you can rest in the scenic meadows and admire the summit of the Ampezzo Basin.
There are three possible descents, varying in steepness but none taking more than a couple of hours. As an added bonus, this ferrata can also be linked to the tunnels in Lagazuoi or the Castelletto di Tofana allowing you to explore even more of this fascinating mountain region.