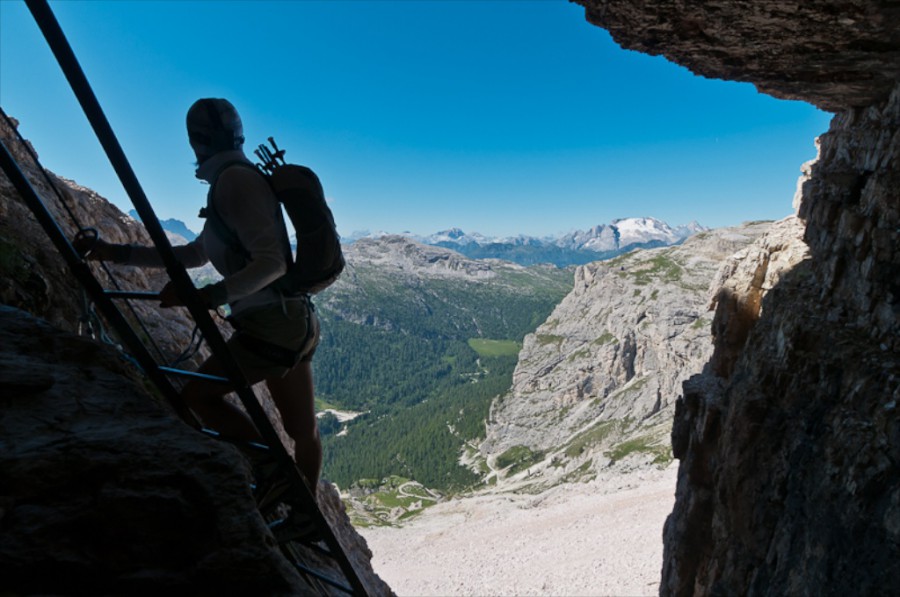 Via Ferrata Marino Bianchi
If its spectacular views you're after, this ferrata is perfect. Breathtaking heights afford incredible panoramas of the surrounding peaks and valleys and the moderate terrain grants excellent opportunities for intermediate climbers. The pleasant itinerary follows the impressive 3000m crest and traverses from Forcella Staunies all the way to the summit of Cristallo di Mezzo. You'll feel like you're on top of the world as you conquer this ferrata.
To get to the start of the ferrata, take the SS 48 from Cortina towards Passo Tre Croci to Capanna Rio Gere and where the Sonforca chairlift begins. Take the lift up to Rifugio Sonforca and then grab a gondola to the 2919m Forcella Staunies. You can then travel on foot to Rifugio Guido Lorenzi where you will find the start of the ferrata at 2932m.
You'll get off to a good start using the available cables which lead up to the northeast crest and then continue on beneath the Cima Nord. You'll then take a slight descent into a narrow gully. Pay extra close attention and care when traveling between the steep walls of the gully, as they often harbor leftover snow and ice, even in mid-summer, due to the altitude and semi-enclosed nature. Once through this section, begin your ascent again using the available ladders. You will pass two vertical walls and several ledges before you reach the ferrata's most difficult section: a 10m long overhanging crack with an incredibly smooth surface.
After tackling the most challenging, yet rewarding section you'll then be faced with a demanding ascent up a set of fixed cables toward the crest, where the terrain gradually gets easier. The level path quickly turns into stepped terrain that leads to the Cristallo di Mezzo, which stands proudly at an incredible 3163m. Take a good look around at the massive peaks nearby as well as those in the distance and enjoy a rare glimpse of nature at its most glorious.

The descent back down to Rifugio Guido Lorenzi is along the same ascent route. Just pay attention and take extra care when you encounter other groups that are on their way up since you will have to share the same path with one another.

Via Ferrata Marino Bianchi is an enjoyable and popular climb, featuring mid-grade terrain and fantastic scenery. It is a pleasant, short trek that will bring you higher than you've ever imagined and is sure to leave you with breathtaking memories to last a lifetime.