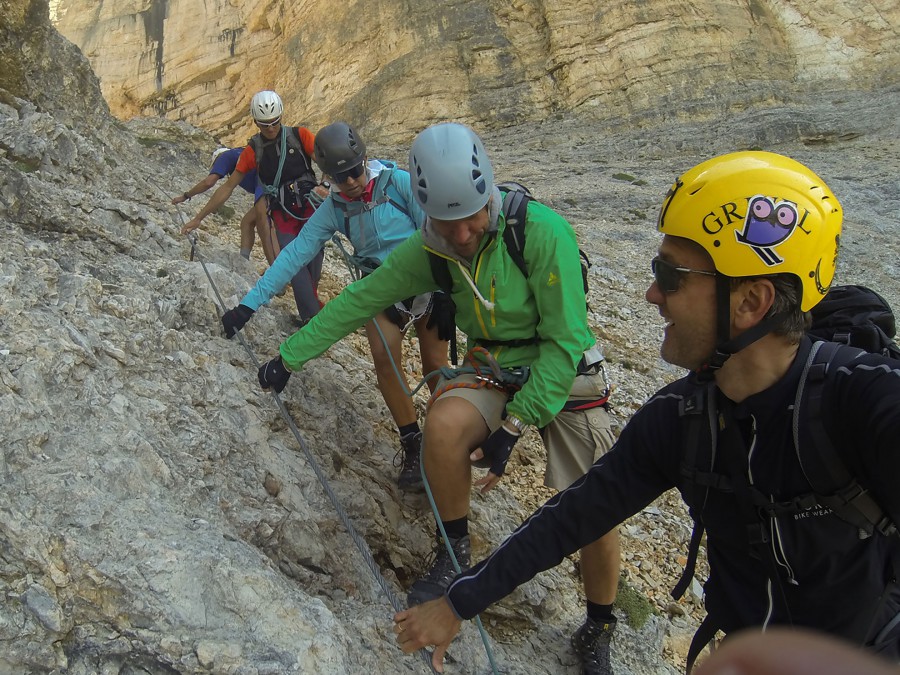 Via Ferrata Piz da Lec Dolomites, Sella, Piz da Lec, 2911m
Perched high amidst the towering peaks of the Dolomites, this delightful yet short ferrata affords climbers the challenge of a steep, demanding ascent and some of the most breathtaking panoramic views in the region. Somehow this journey has failed to make it onto the most popular climb lists, but this only adds to the enchanting mountainside experience.
Begin around 2536m at Rifugio Kostner al Vallon, which can be reached either by taking path 638 from Passo Campolongo or via the Boé lift and the Vallon chairlift from Corvara. From the chairlift, take the short 25 minute walk toward the start of the ferrata.
The ferrata begins within the impressive steep walls located directly above the mountain hut. You'll begin by climbing a series of rock faces, chimneys and ledges which alternate from easy to steep. Once you've conquered this section you'll reach two long iron ladders which will lead you up toward the impressive 2911m summit. When you reach the cross, you'll be rewarded with spectacular 360 degree panoramas that provide views of Sella group, as well as Mount Pelmo, Civetta and the Marmolada and even peaks in Alta Badia past Cortina. You'll also get a fantastic glimpse down onto Val Mesdì. The sights are absolutely awe-inspiring.
After taking in the breathtaking natural beauty around you, begin your descent by following the scree slope of Piz da Lec, which is easy but can be slippery so use care. Continue downward over a small equipped vertical rock face from which you can either head straight down the crest and down a small ladder or bear right down another rock face toward the Vallon chairlift.
Because it is a less popular route, climbing Ferrata Piz da Lec allows you to truly enjoy the peaceful serenity of this beautiful region, while its high altitude affords absolutely stunning views of the incredible surrounding Dolomite Mountains. It's a journey not soon to be forgotten.