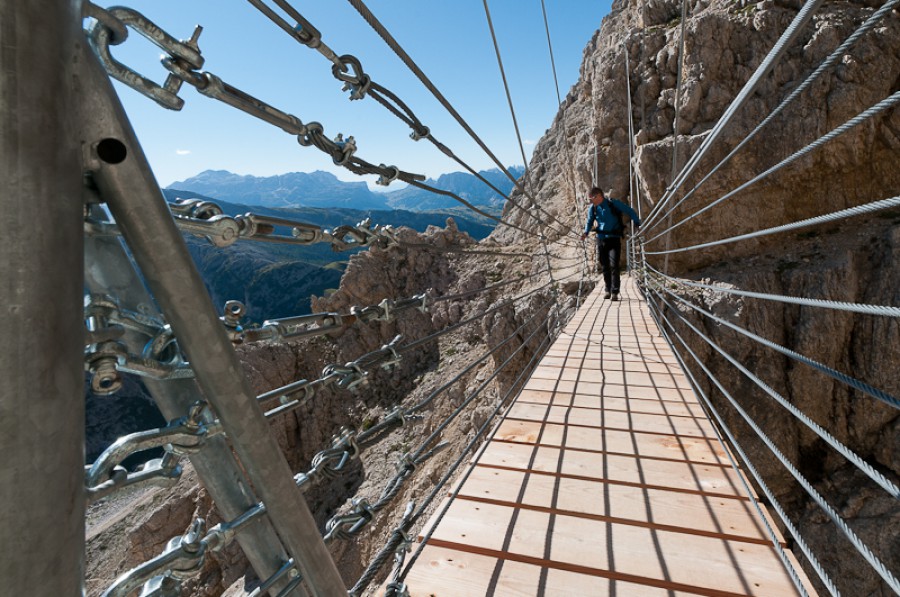 Ferrata delle Mèsules Dolomites, Sella, Piz Selva, 2941m
The oldest among the via ferrata in the area, this route along the famous Sella dates all the way back to 1912 and ranks among the more demanding due to its steep and airy climb. Those who choose to accept the challenge, however, are rewarded with some of the most gorgeous views in the Dolomites.
You can access this ferrata by traveling the road to the Passo Sella, then from there following the clear path heading northwest. The path will lead you below the Sella towers to a large black mark that indicates the line of a waterfall. To the right of this sits the base of the ferrata just waiting to be conquered.
Your journey begins by climbing cables to reach a series of chimneys equipped with pegs. The first 250m upward is traveled along a fantastic vertical rock wall, with the help of fixed cables and ladders, up the northwest face, which will bring you to a ledge and a magnificent amphitheatre. Continue on until you reach the half-way point, around 2250m, at which point you will be rewarded with much easier terrain and some spectacular views of the nearby Sassolungo and the distant Alps. Move along the imposing ledge where you will begin the second part of your ascent, along stepped terrain and gullies, to reach the summit at 2941m.
Once you've taken a rest and had your fill of the magnificent and breathtaking panoramas, begin your descent by following path 649 from the Mesules plateau to forcella Antersase. Continue down path 647 and Val Lasties which will lead you to the Passo Sella road and back up to the pass.
This incredible via ferrata, with its steep and exposed terrain, offers a true challenge to those skilled enough to tackle it. The views allowed along the route, and from the top make it worth all the hard work, and have helped carve its place as one of the most popular ferrata in the Dolomites. Once you climb it, you'll understand why.