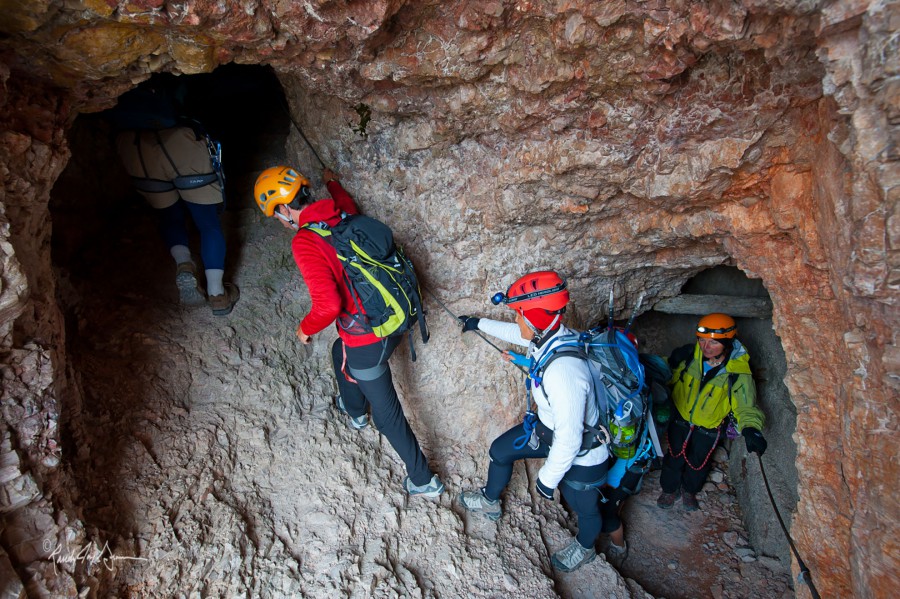 Via Ferrata delle Trincee, Dolomites, Marmolada, Mesola, 2727m
Whether you are an outdoor enthusiast, a nature lover or a history buff, the Ferrata delle Trincee has a little bit of everything all in one breathtaking journey. Not only does the climber get to experience some exhilarating and physically demanding terrain, but because the route crosses through WWI tunnels and clefts, there is also the opportunity to take a virtual step back in time and reflect on the sad yet fascinating history of the area itself. And, of course, the views are nothing short of amazing.
The ferrata is accessed by way of Passo Fedaia, following path 698 to Rifugio Porta Vescovo. From there, grab a cable car that leads up from Arabba. Head east toward the Mesola, following the signs until you reach the start of the ferrata, directly below Bec da Mesdi. Now prepare yourself for an unforgettable journey.
Begin this ferrata by ascending 30m up a smooth slab and onto a solid ledge. From there, head to your left where you will tackle another series of slabs, which are thankfully less steep than the first, toward the summit crest. At this point you will move alternately between both sides of the ridge toward a small bridge, during which you will face an exposed but well-equipped climb. You'll soon reach the Mesola summit where you will face a steep descent on to a broad saddle.
At this point you have the option to vary your itinerary. You can either continue along the ridge or exit the ferrata by heading south along the path, toward the cable car. If you choose to remain on the route, you will soon encounter two tunnels that lead out to the south and north faces of the Mesola. The exposed path will lead you steeply up the Mesolina incline where you can utilize the provided fixed cables to assist you up to the final tunnel. Follow this carefully (you don't want to take a wrong turn) for approximately 300m where you will eventually exit at 2550m on the southeast face and near Bivacco Bontadini. From here breathtaking views abound and provide a nice compliment to the sense of accomplishment you are certain to experience.
Your descent will be along the path heading east down toward Rifugio Padon (2390m) and then along path 699 to Passo Fedaia. You can either continue on this path toward the north to reach Arabba or take the path that crosses the south face to get to Porta Vescovo.
The Ferrata delle Trincee offers some of the most interesting yet demanding terrain in all of the Dolomites. Climbers can experience a little bit of history as they tackle the challenging climb and have the lovely option of adjusting their itinerary as they so choose. If you plan on conquering this exciting trek, just don't forget to bring your torch and a pair of good hiking boots.