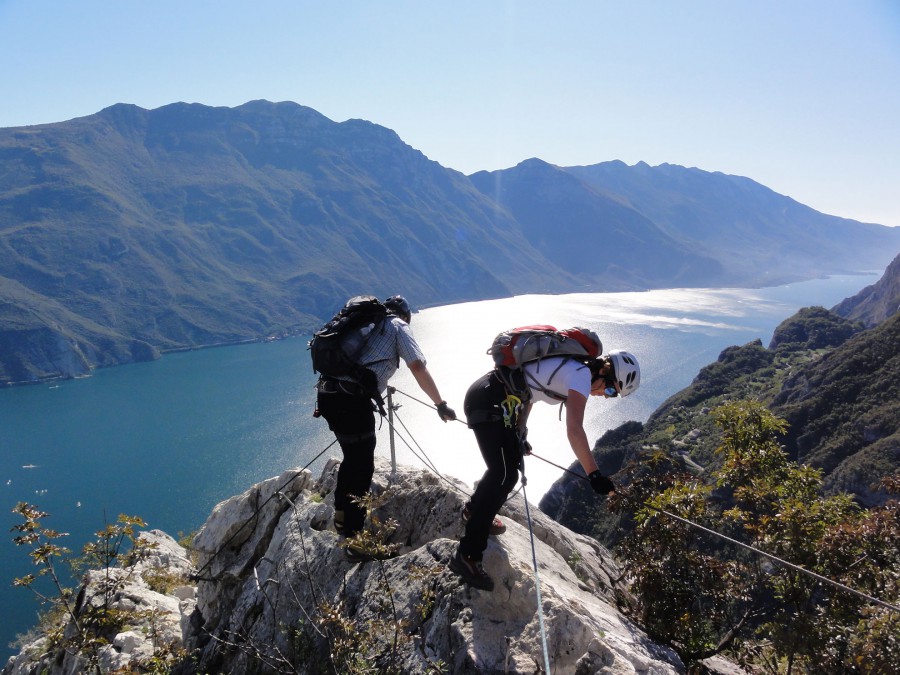 Five reasons to visit Lake Garda
BEAUTY
Picture a postcard of an immense blue lake, with towering peaks rising above, charming villages set along the shore, and lovely stretches of beach. This is Lake Garda.
Among its appeal is the color of the water itself. Unimaginably intense blues offer surprising transparency, which make it very enticing. And, depending on the time of day, lovely reflections of the stone-hewn villages and mountainsides glow on the rippled surface.
What's more, Lake Garda is surrounded by an incredible variety of landscapes. To the north, are towering mountains that slope downward, to glacially carved cliffs that drop vertically into the lake. To the south, the mountains give way to rolling hills, and ultimately to lovely sand beaches. And add to the postcard, picturesque villages that dot the shoreline, just waiting for you to visit.
CULTURE AND HISTORY
Prehistoric, antique, medieval, and modern civilizations – from the influences of emperors to ordinary people who have been attracted by the beauty of the lake for centuries – make the region around Lake Garda an incredibly varied cultural scene.
Medieval villages are clustered between walls and towers along the shore. Veronese and Venetian castles offer artifacts of great leaders and their battles, whereas elegant villas offer indications of power and wealth in peaceful times. Evidence of prehistoric settlements and the remains of Roman villas provide a look back further into antiquity.
Monasteries, abbeys, churches, and their sacred art demonstrate the impact of religion throughout the history of the region. Architectural gems, curated gardens, vast frescos, and other works of art confirm that beauty was of great import to the culture that rose up surrounding this majestic lake. And monuments and museums lining the shore offer additional insights into the rich history and culture of the region.
PERFECT CLIMATE
The mild, Mediterranean climate makes for delicious air and water temperatures most of the year. With such a large body of water at its center, the lake itself actually helps moderate the temperature. In summer, the water of the lake is colder than the air, and in winter it is the opposite. This strongly contributes to mitigating the summer heat and reducing the potential harshness of winter, thus rendering the Garda climate incredibly pleasant. In fact, this year-round temperate climate not only attracts visitors year round, but is also what enables olives and lemons to grow well north of their usual range.
But the combination of the lake and surrounding mountains also makes for winds that can be quite intense. Throughout the day the wind shifts, blowing from north to south in the morning, and south to north in the afternoon. Secondary warm and cool winds can come from almost every direction, at different times of day, and during different seasons, helping moderate the climate – cooling down hot summer temperatures (24-32˚C / 75-90˚F), and warming up the cooler winter air (5-15˚C / 41-59˚F).
ACTIVE, LEISURE, OR BOTH!
On Lake Garda, there is truly something for everyone.
For active travelers, there are countless opportunities to hike – everything from leisurely strolls to mountain ascents, and a cable car to the top of Mount Baldo, for those who want to take in the views from on high without the hike. Want even more vertical? There are several via ferrate – or iron cabled paths – to climb, and Arco lies just above Lake Garda's northern shore – a haven for rock climbers and home to the famed RockMasters annual sport climbing competition. There are ample trails for mountain biking, as well as opportunities to road bike – circumnavigating the lake (~160km / 100 miles) or darting up above villages lining the shore. More of a water person? You can try kayaking, stand up paddle boarding, or sailing, or even canyoning up a nearby river gorge! And Northern Lake Garda is world renowned for its strong winds, which are perfect and renowned for windsurfing.
Prefer a more leisurely, or even luxurious, trip? The southern portion of Lake Garda is known for it's spa culture, particularly in Sirmione – a 2 kilometer spit of land that extends northward into the lake. And the beaches in the south are exceptional. 5-star accommodations are plentiful, as is outstanding regional and international cuisine. And there seems to be at least one castle, villa, museum, or Roman ruin to visit in each of the lakeside villages!

ROOM TO EXPLORE
While Lake Garda is the largest lake in all of Italy, it is also the least well known, at least to non-Italians. So what does this mean for you? With vast shorelines to discover, and villages dotted throughout, there is more room to explore. While the economy of Lake Garda is primarily based on tourism, with fewer international travelers, you have more opportunity to interact with Italians, for a less adulterated, more authentic experience.
There are countless more reasons to visit Lake Garda. What are yours?